When it comes to managing your work calendar, how much time do you spend each day? Booking clients, responding to emails, scheduling meetings, dealing with last-minute cancellations, and rescheduling appointments takes time.
In many cases, these tasks consume your time and overload your day. As a result, you can't attract new business, meet more people, and earn more money.
The good news? By using booking software, you can regain control over your schedule. With today's online appointment scheduling tools, you can automate it all – but the benefits aren't just for businesses. In addition, clients will appreciate being able to make appointments online whenever they wish.
What is an Appointment App?
You can make scheduling appointments easy for your clients, customers, and team members with an appointment app. Also known as online scheduling software or mobile booking software, the application can be used to schedule appointments.
A majority of appointment apps today go beyond basic scheduling features. Your clients, team, and business as a whole will benefit from the comprehensive business management capabilities they now offer.
The Benefits of Using an Appointment App
Appointment apps have many benefits for your business, including:
Scheduling that is available 24/7.
An automated scheduling system can take appointments anytime rather than relying on staff to create the schedule during business hours. It is possible that your customers cannot always reach you during regular business hours. Alternatively, they may prefer to make an appointment without waiting on hold before calling.
An appointment app allows customers and prospects to schedule their appointments when it is convenient for them, 24/7. As a result, you will be able to attract and retain more customers.
Savings in time and money.
An appointment system that uses paper processes and consumes significant amounts of time can save a small business a lot of time and money. Using an appointment app can reduce manual processes and eliminate paper costs. You can apply those savings to other areas of your business, which will allow you to focus more on customer service, as well as grow your business.
Enhancing the user experience.
Traditionally, appointments have taken much time and back-and-forth communications about the best day and time to meet. It is possible that the appointment cannot be set, and you will need more time to reschedule it. When your customer feels inconvenienced, it can get really frustrating.
Appointment apps provide your customers with access to a simple scheduling process where they can view available times and reserve one that works for them. The system also allows users to reschedule appointments and receive reminders easily.
Human error is reduced.
Humans are prone to making mistakes. You might have an employee who regularly transposes phone numbers or adds customers to the wrong time slots when scheduling an appointment. It is possible for multiple people to use the same appointment book and double book a time slot at the same time. Customers are dissatisfied as a result of these human errors.
An appointment app automates the scheduling process, thereby reducing human errors. In the app, the customer enters their information and only schedules open times. The more human errors there are, the happier the customers are.
Improved search visibility.
The top priority for any service business is to attract local customers. Having a strong online presence and appearing in prospects' search queries is important. Through Google Maps and Search, appointment apps can help you appear when customers search for your service by integrating with search engines.
Business insights.
Your appointment app often includes data analytics tools so you can find out what your most popular services are or what times of the week are busiest for your business. The data can then be used in various ways to improve business decisions, such as when to schedule employees, what types of promotions to run, and so on. Such insights cannot be gleaned from a physical appointment book.
What to Look for in an Appointment App
The best booking apps go beyond simply listing available times for meetings, treatments, and services. Besides canceling and rescheduling appointments, your clients can do so without contacting you. They also facilitate communication, centralize payments, and enable managers to manage their teams.
When looking for the best appointment-scheduling apps for your business, you should consider the following:
An easy-to-use interface.
The appointment app should be something that your clients feel comfortable using right away. You need a simple, convenient process for scheduling appointments with the least amount of clicking and scrolling possible.
Attendance and booking features.
Customers should be able to complete the booking process and show up for their appointments using an appointment app solution. A rescheduling option, appointment confirmations, and reminders, as well as waitlists, should be available.
Flexibility.
Unlike other appointment scheduling apps, the best allows you to customize how bookings work based on your company's needs. Would it be helpful for your clients to have the option of choosing from a menu of services? Are they able to specify where their appointment will take place, such as at home if services are offered there? A good appointment scheduling app allows you to customize these features.
Tools for marketing.
In addition to helping you take advantage of your marketing efforts, the appointment app can also help you generate leads. Sharing a booking link, using search engine booking tools, and posting a booking button on social media are features that can help you accomplish this.
Your staff's capabilities.
You should also have an appointment app that can help you oversee your team, in addition to customer service and marketing. Using an appointment app, employees can plan their schedules for the week or month.
Calendar syncing.
Almost all appointment-scheduling apps sync with calendars. In some cases, it is even required. Combined with important information, such as your business's holidays or renovation schedule, you'll be able to see your business's appointments and other important information. You can also cross-reference your availability with your primary calendar events.
Payment processing.
Integration of payment processing with your appointment app is not a necessity. However, it adds convenience to your customers and reduces labor costs. For businesses that take deposits at the
Rating: 4.4/5 (Android), 4.8/5 (iOS)
Platforms supported: Web, iOS, Android
Our take: Best overall appointment app for business owners.
With Calendar, individuals and teams can manage their calendars, schedules, and time. You can customize and share the dashboard view that brings together your Google Calendar, iCal (Apple Calendar), and Outlook Calendar.
Additionally, the digital calendar syncs across devices, and you can set up a virtual assistant that can handle meeting planning, invitations, and scheduling changes automatically. With the paid versions, you can also track how you spend your time in meetings and the ability to view meeting transcripts.
Pros:
Using your customized calendar links, you can share them with anyone. Based on your online availability, they can schedule an appointment with you.
Functionality for teams. Multiple team members' availability can be checked simultaneously with round-robin and multi-host scheduling.
By using the "Find A Time" tool, internal meetings can be scheduled more easily.
Analytics tab with detailed information. Meetings attended, hours spent, and events attended/missed/rejected are represented graphically in this report.
Cons:
If you're trying to find an appointment app with a wide range of niche integrations, it might not be the best choice.
Pricing:
With Calendar.com, you can sign up for the free Basic plan, the Standard plan ($20/month), or the Pro plan ($24/month).
Rating: 4.5/5 (Android), 4.9/5 (iOS)
Platforms supported: Android, iOS, Web
Our take: A simple appointment scheduling app that makes scheduling appointments easy.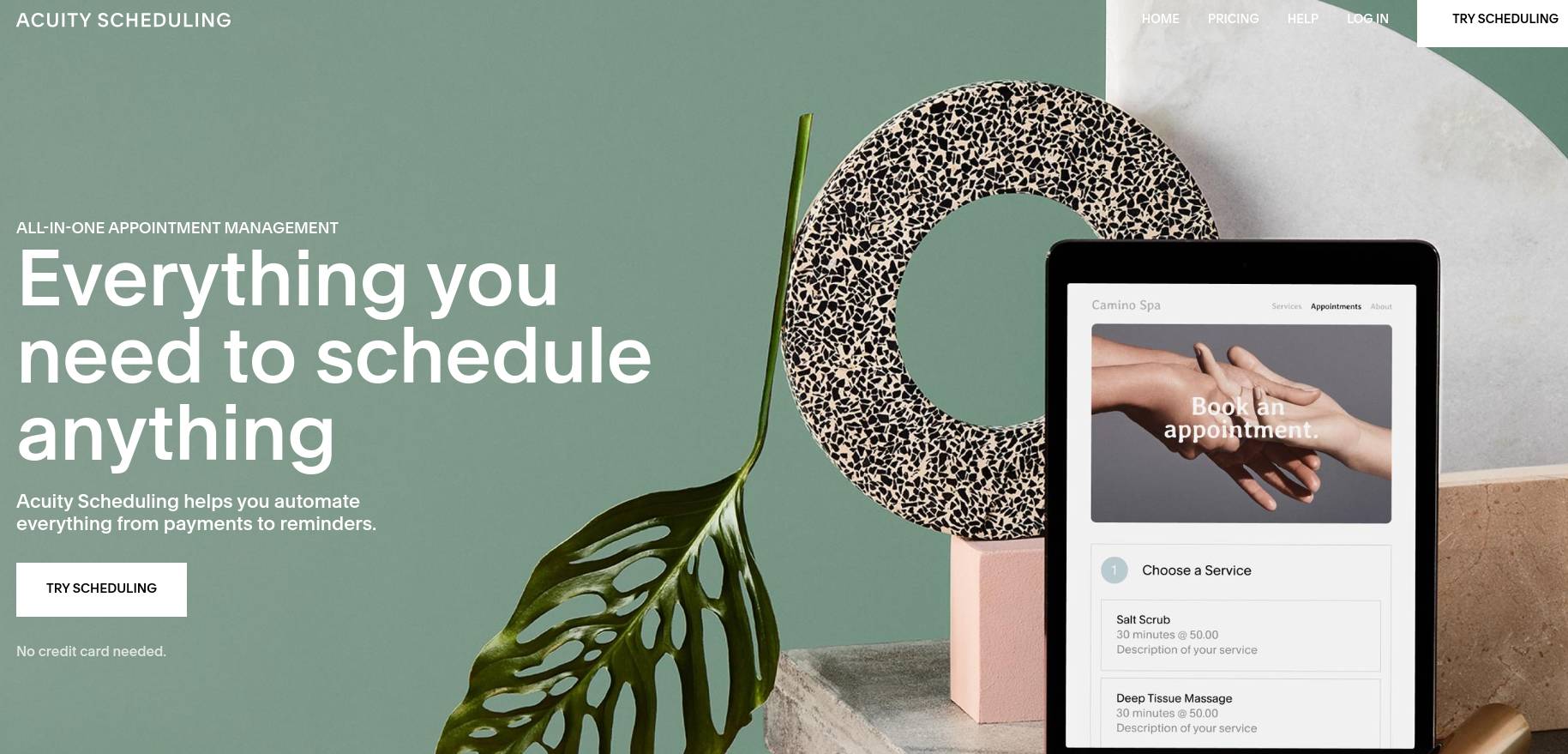 With Acuity Scheduling, you can customize your appointment process to a fine degree even if you are not tech-savvy. A booking page that you design can let your clients schedule recurring appointments, complete intake forms, and pay in advance. In addition to coupons, you can offer your clients the option to add on services when they book, like a 15-minute foot massage.
Appointments can be rescheduled or canceled and the interval between appointments can be changed. Appointments start every 15 minutes, by default. Your clients can book an appointment as much in advance as they like or with as much short notice as they like.
You can share your booking page via a direct link, embed it into your site (a Squarespace option is available), or create a button, booking bar, QR code, or embed code.With Acuity, you can update your availability from an Android or iOS device, and you can book rooms from the client app.
Pros:
Easily reschedule and cancel appointments.
Meetings can be scheduled using a clean, simple calendar.
Easily embeds into websites; does not redirect.
Cons:
Some find the interface confusing making navigation difficult
Synced calendars cannot be modified, only the backend can.
Managing multiple calendars becomes complicated.
Pricing:
Plans start at $16/month for one staff member and location and include payment processing features.
Rating: 4.4/5 (G2)
Platforms supported: Web
Our take: The best CRM software for HubSpot users.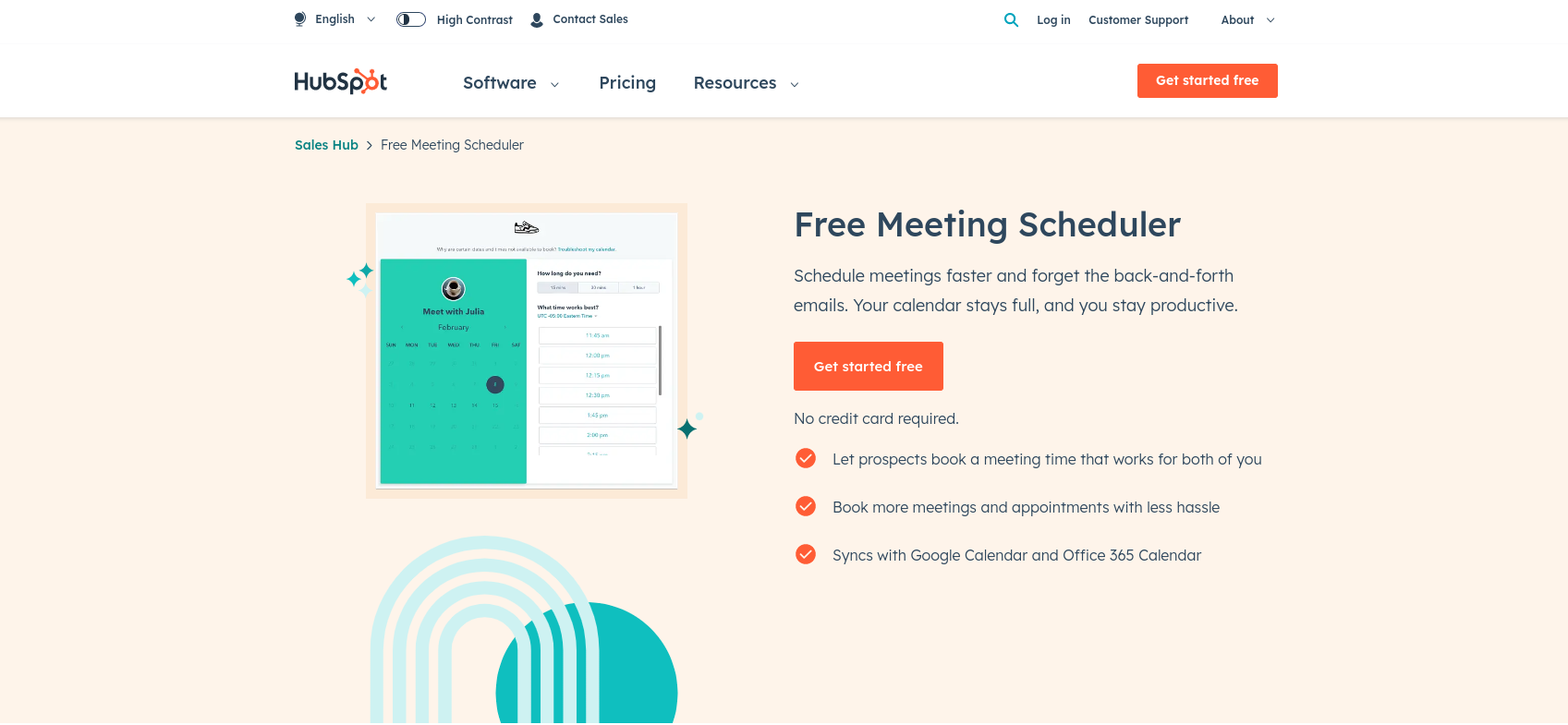 By syncing your Google Calendar or Office 365 calendar, setting your availability, and having prospects book meetings with you, the HubSpot Meetings Tool makes it easy to stay in touch with prospects and customers. Contact information such as name, phone number, email address, and more can be captured in the form fields on your meeting page. Embedding the meeting page on a website or landing page is another option for sending the meeting link.
Whenever someone books time with you, you block the time off on your calendar and send them a confirmation email. Having a streamlined scheduling process allows you to schedule more meetings faster. You can also track contacts and meetings directly in your CRM. When prospects schedule meetings, HubSpot creates new records automatically.
Pros:
Schedule a time that is convenient for both of you
Make more appointments and meetings with less effort
It syncs with Microsoft Office 365 and Google Calendar
Cons:
If you work with team members in different time zones, you might quickly outgrow the limited features.
Pricing:
Those with paid HubSpot plans have access to their meetings tool. HubSpot does not offer a standalone scheduling tool, so if you just want to schedule meetings with HubSpot, you'll need to pay $50 a month for a year's subscription.
Rating: 4.3/5 (G2)
Platforms supported: Web
Our take: OnceHub caters to businesses of all sizes in a variety of industries, including B2B SaaS, financial services, consulting, fitness, and education.
Businesses of all sizes can schedule and manage their online interactions with customers and prospects with OnceHub (formerly ScheduleOnce).
Appointments can be booked, assigned to specific staff members, and communicated via a variety of channels. Customers can schedule meetings that are automatically entered into employee calendars through the automatic booking functionality.
Through Zapier, OnceHub integrates with Salesforce, Infusionsoft, GoToMeeting, WebEx, PayPal, and many other applications. Users can also integrate their websites with the solution using APIs.
Pros:
Meeting journey workflows can be customized and interactive in just a few minutes.
The availability of you or your team can be shared.
Manage engagements with your target audience using your own no-code digital assistant.
Cons:
Does not have an Android or iOS app.
Can be difficult to integrate with Instagram and other social media.
Pricing:
With Oncehub, three users are free to use the service. Paid plans start at $10 per user per month.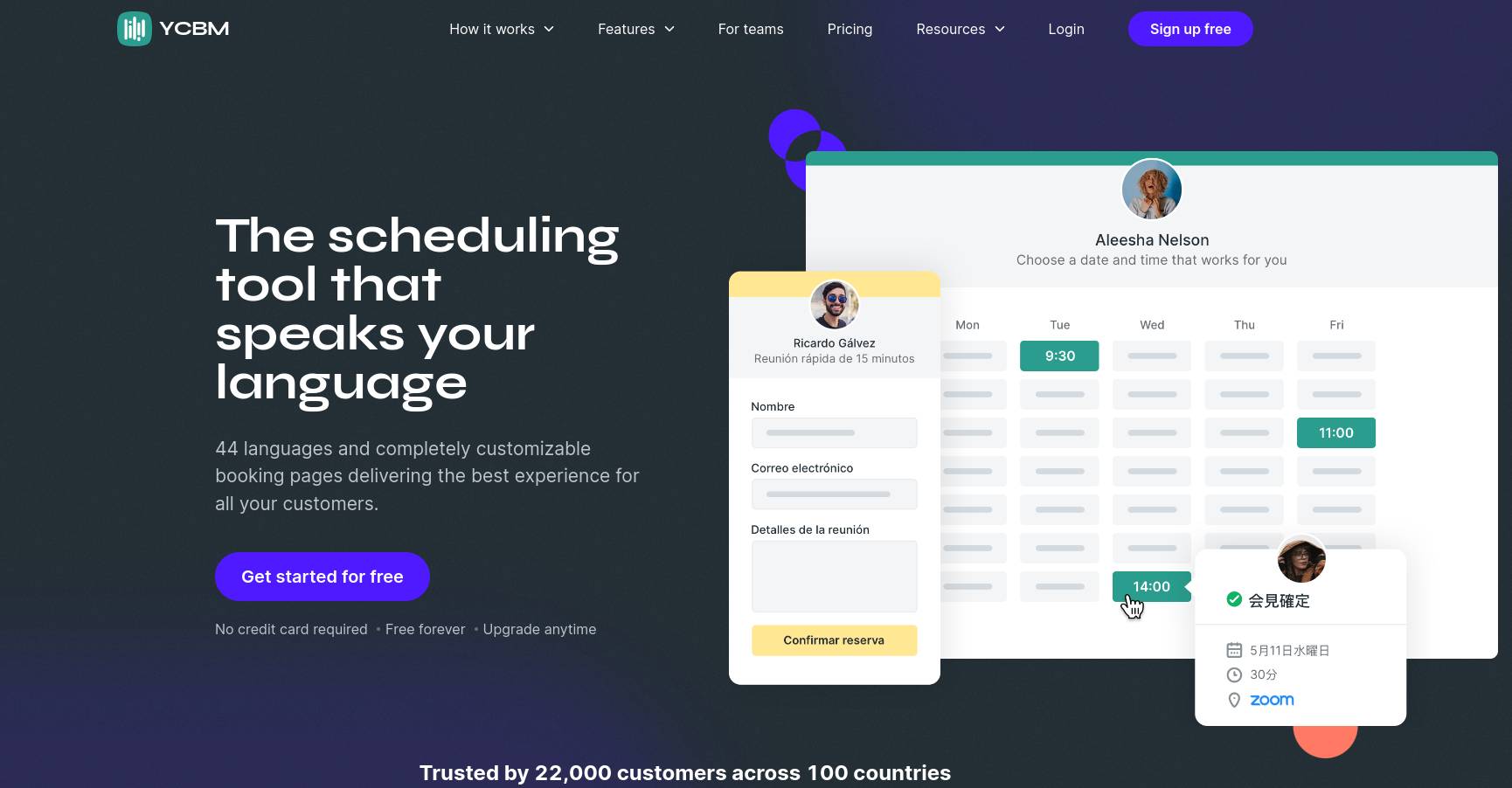 Rating: 4.7/5 (G2)
Platforms supported: Web
Our take: The best option for messaging.
With YouCanBook.me, businesses can send thank-you emails automatically following meetings. As a matter of fact, it streamlines all appointment-related communications. Notifications for confirmations, reschedulings, or cancellations are included in this category.
Your availability is shared with clients once you connect your calendar to YouCanBook.me. Clients can choose which dates and times work best for them. Appointments are added directly to your schedule when they are scheduled.
There is a unique feature that allows users to suggest a meeting without committing to it right away. Simply mark the meeting as "tentative."
Pros:
Your scheduling page can be customized from branding to the client experience.
Integrates with Google and Microsoft calendars, as well as Zapier, Zoom, and Stripe.
Cons:
There are too many restrictions when it comes to setting up slot times.
The booking process could be a little more flexible and customizable.
Pricing:
A flat monthly price of $10 is offered by YouCanBook.me.
Rating: 4.8/5 (Android), 4.9/5 (iOS
Platforms supported: Android, iOS, Web
Our take: Easy to use and cost-effective.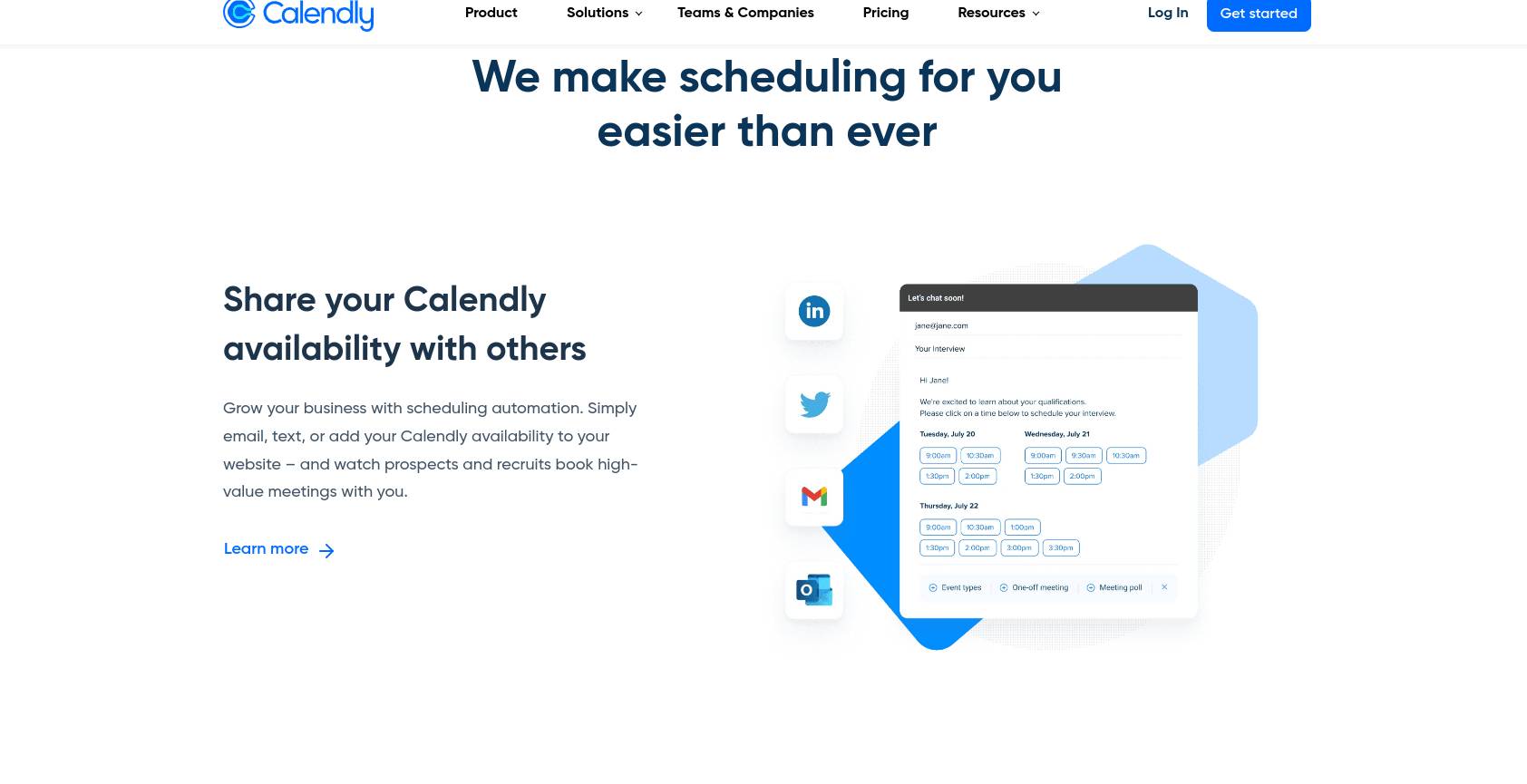 Clients can schedule appointments instantly after creating their calendar rules and sharing the link to the scheduling page. Your availability, as well as the length and type of meeting you want, will only be visible to them. Due to Calendly's automated reminders and follow-ups, you can focus on building your business and bringing back customers.
Neither you nor your client has to deal with back-and-forth anymore. As a result, your schedule stays full, and everyone avoids exchanging unnecessary emails.
Overall, Calendly is an excellent appointment booking tool for individuals, including recruiters, teachers, salespeople, customer success specialists, and entrepreneurs. In addition to scheduling one-on-one meetings, it can also help find out when everyone is available. The program also adjusts for the different time zones of all participants, so that everyone arrives on time for the meeting.
Pros:
Integrates with Zoom, Salesforce, and hundreds of other tools via Zapier, including all the major calendars across devices.
Your clients can pay as soon as they schedule a meeting with you using Stripe and PayPal integrations.
Cons:
There are a limited number of options for setting up "teams" or call types.
One team's call links cannot be seen on a dashboard or anywhere.
Pricing:
There are five Calendly pricing tiers: Free (Basic), $8 per user/month (Essentials), $12 per user/month (Pro), $16 per user/ month (Teams)
Rating: 4.8/5 (Android), 4.9/5 (iOS)
Platforms supported: Android, iOS, Web
Our take: Unlike other apps on this list, its design is minimalist, making it easier to use.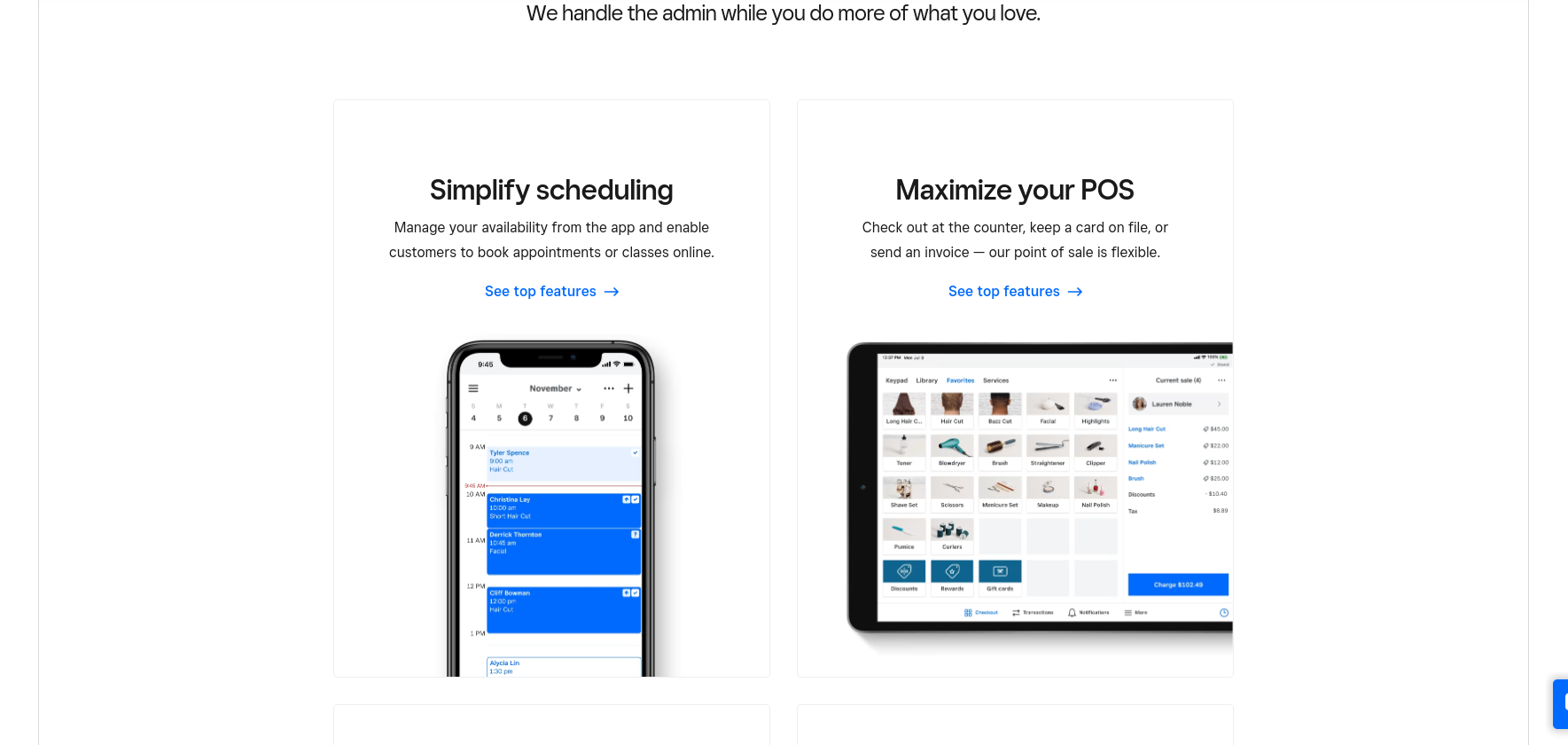 Any coffee shop patron who's ever paid at a POS knows Square's technology. Additionally, Square provides its own Appointments feature, which is useful for businesses seeking POS functionality with appointment scheduling.
With Square, small retail companies can use several useful features within one app, including flexible payment options, online and in-person booking, staff management tools, and client management.
The Appointments module prioritizes aesthetics as would be expected from a mobile-first platform. It is impressive that the tool encourages users to upload pictures of their products and services, and both the backend and customer-facing interfaces are clean and streamlined.
Pros:
Easy to set up
User friendly
Affordable
Cons:
There is only one calendar sync option: Google Calendar
Payments can only be made through Square
Pricing:
For a single location, it's free. For access to the Bookings API and Google Calendar sync, paid plans start at $29/month per location.
Rating: 4.4/5 (G2)
Platforms supported: Web
Our take: Ideal for synchronizing calendars.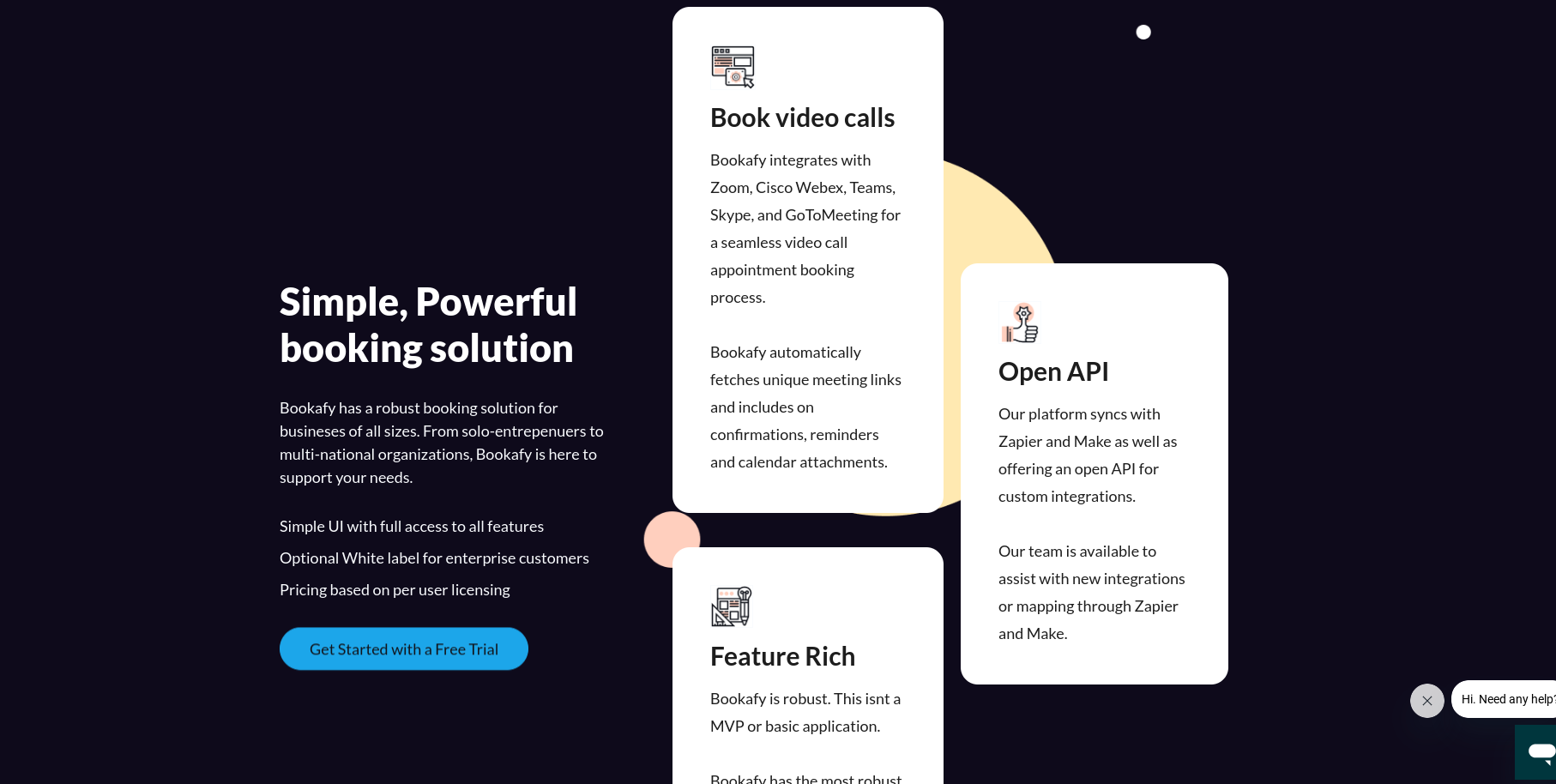 With Bookafy, you can schedule almost anything in real-time. With it, you can set up meetings between individuals, groups, and even recurring ones.
How you handle a meeting request depends on how it's routed. If they require a staff member with specific skills or knowledge, you assign them accordingly. Using round-robin distribution, you can ensure that the first representative available contacts the person.
Any meeting attendees can attend, regardless of their location. All time zones are automatically detected, so everyone stays on schedule.
Pros:
Whenever you schedule a meeting, Bookafy generates a unique link for Zoom or GoToMeeting.
To manage credit card payments, Bookafy works with Authorize.Net and Stripe.
On your scheduling page, you can customize fonts, colors, and messaging.
Cons:
The customer-facing booking page could be improved.
The configuration is confusing.
Pricing:
Bookafy offers a free plan. But, for more robust features you'll want to look into either the Pro Plan ($7 per user/per month) or the Pro+ Plan ($11 per user/per month)
Rating: 4.1/5 (Android), 3.6/5 (iOS)
Platforms supported: Android, iOS, Web
Our take: The best app for international businesses to schedule appointments.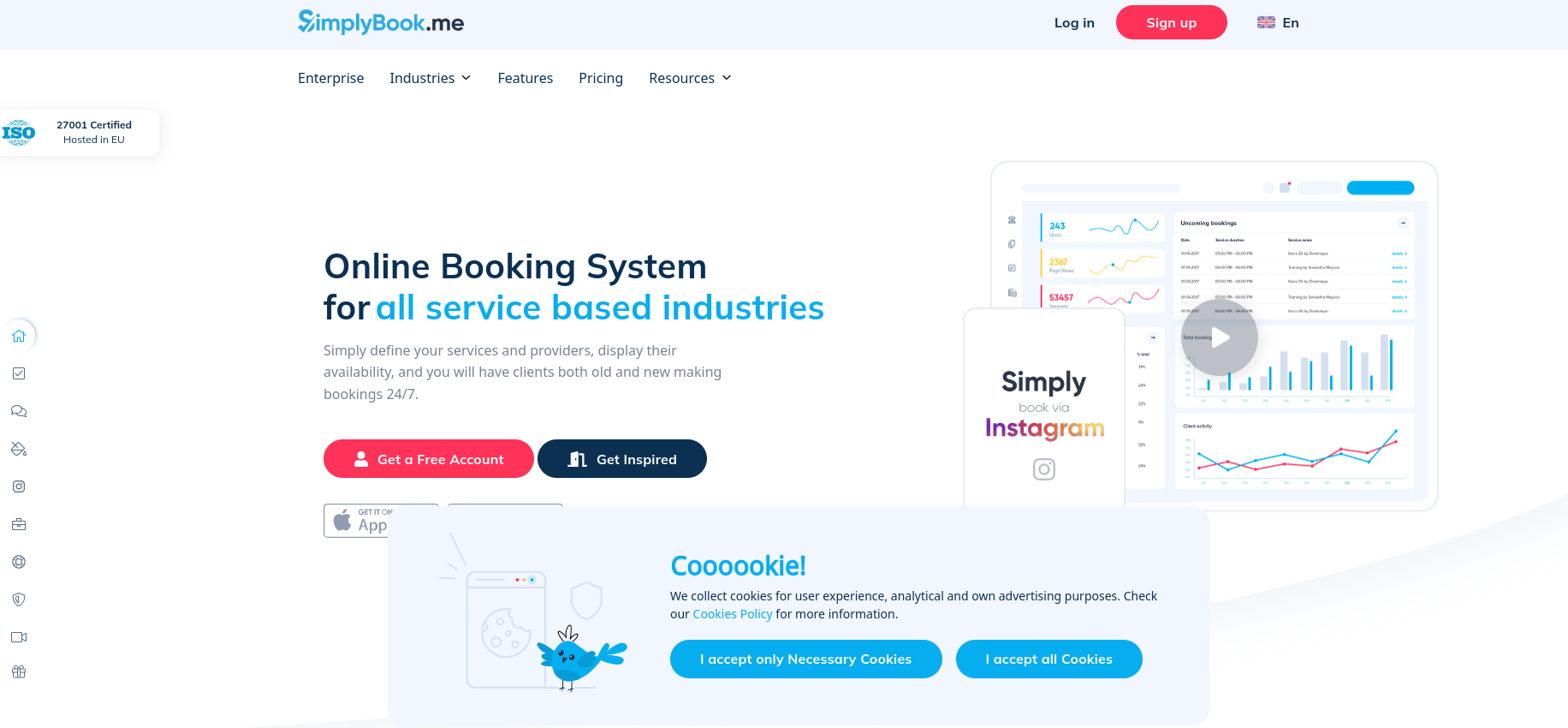 SimplyBook.me is the best scheduling app for international businesses since it supports multiple languages and international payment options. There are 32 languages available on the booking pages of SimplyBook.me. You can also integrate 38 payment processing services to offer your customers a flexible booking experience.
With SimplyBook.me's Zapier integrations; you can connect your booking software to all your business apps. It's also possible to automate and customize your booking confirmations, add appointments to your calendar, and much more.
Pros:
No-shows can be prevented with SMS booking reminders.
Through social media, you can share booking links and availability.
Cons:
There is only one native video conferencing integration for remote meetings in Microsoft Teams
Initially, it can be a little difficult to use since Navigation can be confusing.
Pricing:
There is no charge for the first 50 bookings and one provider per month. If you want to book more than one provider per month and have a branded app for your clients, you can subscribe to a paid plan for $8.25/month.
Rating: 4.6/5 (G2)
Platforms supported: Web
Our take: It's great for people who schedule lots of video meetings.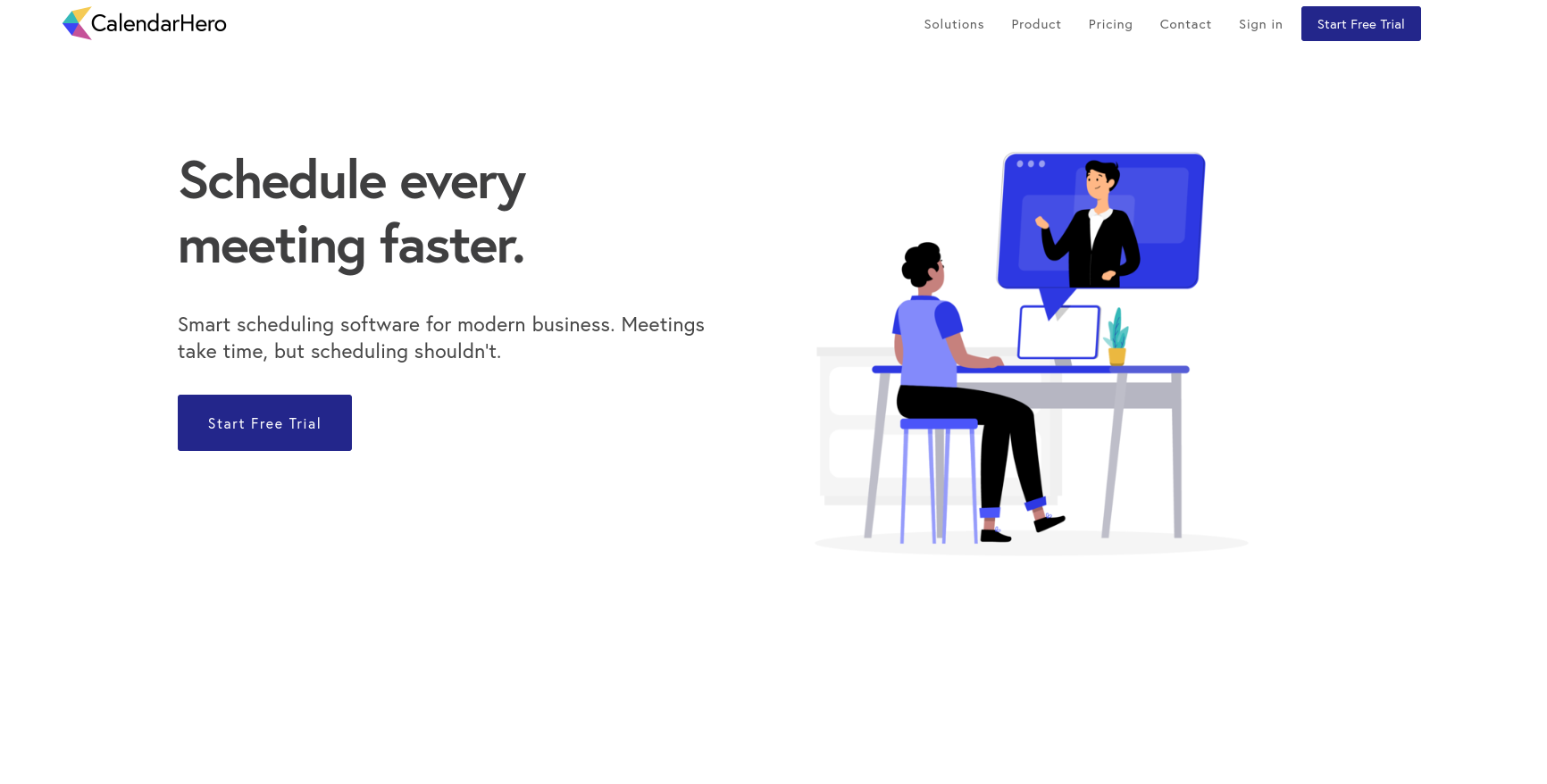 Remote meetings can be scheduled automatically with CalendarHero, which integrates with Zoom, WebEx, Google Meet, Microsoft Teams, and GoToMeeting.
Moreover, CalendarHero's "Attendee Insights" feature allows you to prepare meeting briefings. It's easy to schedule meetings with scheduling automation, which includes time zone awareness, custom meetings, and multi-calendar integration.
Pros:
Allows you to book meetings immediately by synchronizing with your Google and Microsoft calendars.
Easily schedule meetings by sending an e-mail, scheduling a Zoom.ai group meeting, embedding Zoom.ai on your website, creating a meeting directory page, or integrating CalendarHero with Gmail, Microsoft Teams, or Slack.
Cons:
Getting used to the interface and features may take some time for some users.
There are certain customization options or advanced scheduling features they need for their specific use case not available.
Users who do not regularly use calendar and communication tools may find it less useful since it heavily relies on integration with other apps.
Pricing:
CalendarHero had three pricing options: Free (Basic), $8/mo (Pro), $12/mo (Team)
Rating: 4.4/5 (G2)
Platforms supported: Web, iOS
Our take: Free appointment scheduling at its best.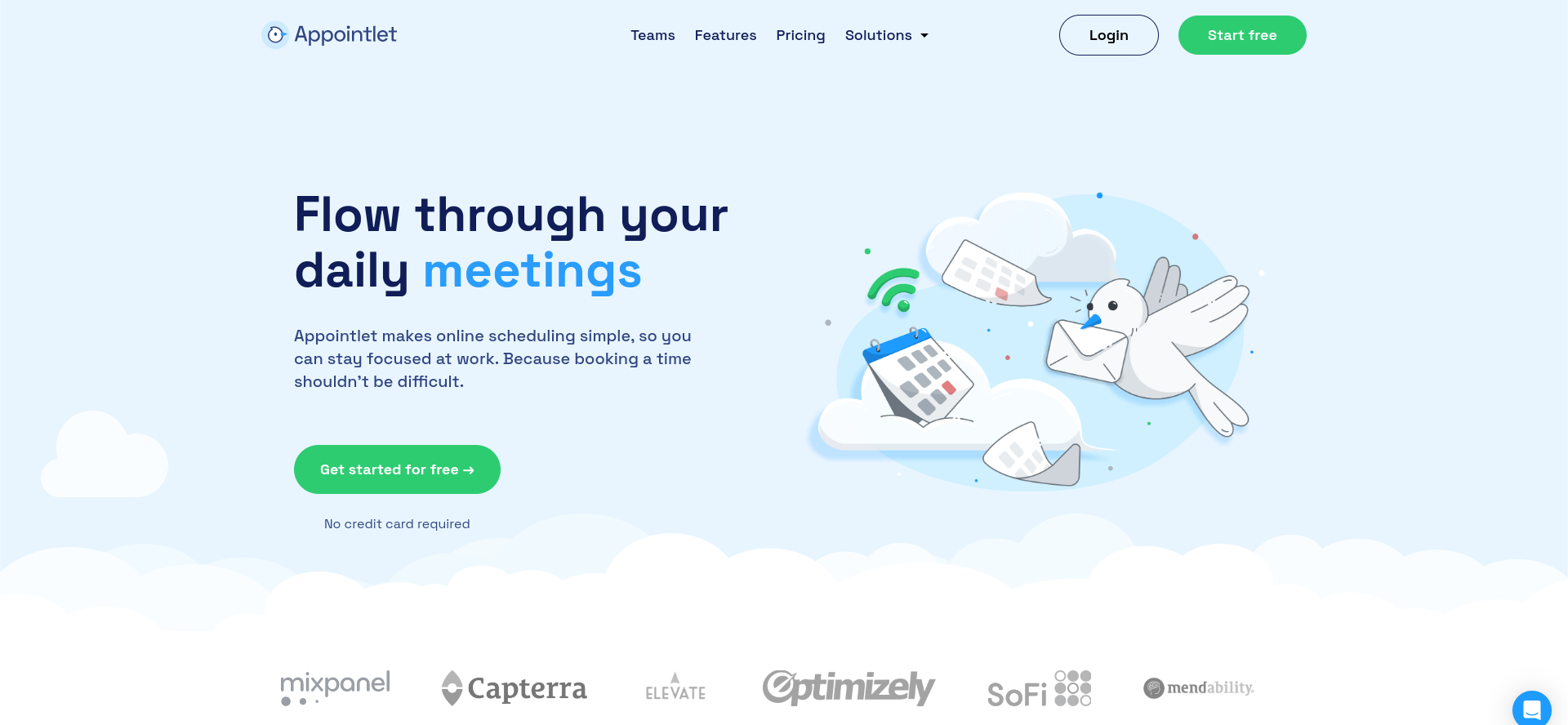 Another scheduling app, Appointlet, allows users to book unlimited appointments in different languages. Furthermore, businesses can book a variety of meetings for free, regardless of the type.
Additionally, you can take payments and gather prospect information with Appointlet.
It is possible to display a link to your scheduling page on your website, in emails, or on landing pages. Appointlet automatically updates your calendar and your customer's calendar when they schedule with you.
No matter where clients are, Appointlet allows them to book appointments. You can even schedule a long-distance meeting without any problems. Also, the system recognizes and accounts for different time zones.
Pros:
It scales well to meet the needs and skills of all kinds of organizations.
Very intuitive.
Online booking, cancellations, and rescheduling are easy for clients.
Cons:
It offers a wide range of settings but isn't as customizable as services with comparable prices.
Initially, there is a small learning curve.
There are times when some data does not make it into Google Calendar.
Pricing:
There are no limits to the number of bookings, meeting types, or form fields in Appointlet's free plan. You can upgrade to the Premium version for $8 per month per member for more features and customization options.
Rating: 4.6/5 (G2)
Platforms supported: Web
Our take: The perfect scheduling and routing tool for B2B revenue teams.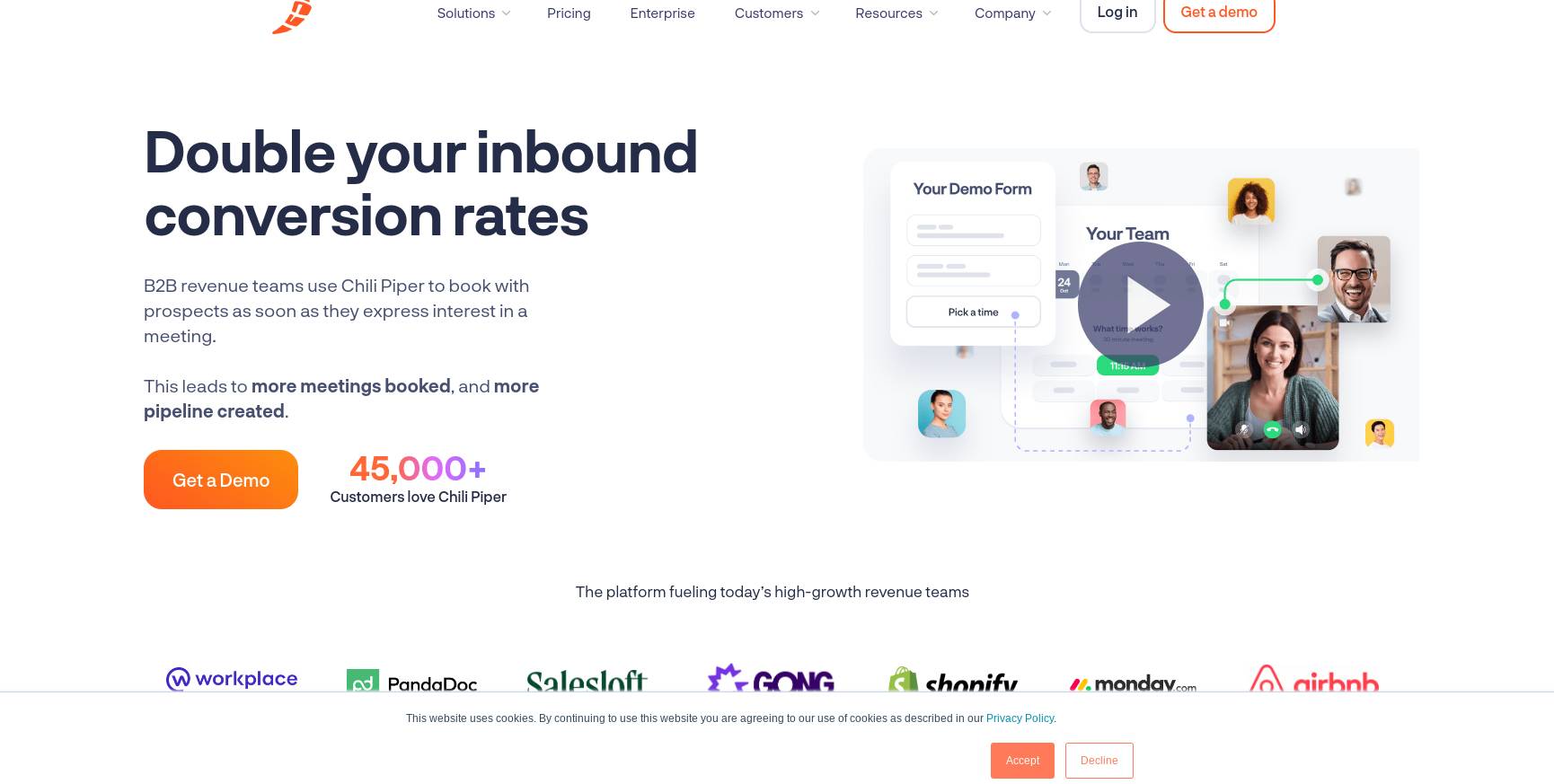 With Chili Piper, revenue teams can close deals faster with features that aid in inbound conversion. If you're a sales team with 5+ people, Chili Piper is a great way to book sales meetings faster, whether it's SDRs or BDRs booking meetings on behalf of AEs, inbound demo requests, or even handoffs from AEs to CSMs.
The scheduling widget developed by Chili Piper is the exception to the rule of back-and-forth emails when scheduling meetings. By placing a convenient button at the end of an email, you can book a meeting without sending prospects to a landing page.
Pros:
Easy to use.
Schedule sales meetings immediately
Multi-employee calendar visibility.
Cons:
Time zone changes are not always reflected correctly.
Loading time can be slow
Limited amount of features.
Pricing:
It costs $15 per user per month for Instant Booker, $25 for Handoff, and $30 for Form Concierge.
Inner Article Graphics: from the Product Websites; Thank you!
Featured Image Credit: Photo by Karolina Grabowska; Pexels; Thank you!
The post Best Appointment Apps for 2023 appeared first on Calendar.