How do marketing professionals perceive the evolution of their profession? How do they adapt to crises? Are they planning to increase product prices? The CMO Profiles study carried out by the BVA institute on behalf of Adetem of which Emarketing.fr is the media partner, sheds light on the choices of marketing departments.
How do they look marketing professionals on their functions, their scope of activity, their missions and their practices? What are their expectations ? How do they perceive the evolution of their profession in the coming years? What influence do AI and technologies have on their profession? Have successive crises (Covid, Ukraine, inflation) changed the situation? And what about the major themes of the past year – responsible marketing, sobriety, talent retention? "The function is undergoing transformation and it seemed important to us to enlighten marketers on the challenges that await them"explain Catherine Reju, General Delegate of Adetem. The annual online study conducted by BVA from December 15, 2022 to February 15, 2023 among 151 marketing managers from companies of all sizes and sectors based in France reveals many lessons…
On the front line of transformations
In the current crisis context, CMOs remain relatively optimistic and confident. The crisis seems to only moderately affect their activity. Two-thirds of CMOs (64%) project increased revenue for their company; and only 24% of them have a decreasing budget (44% maintained, 32% increased). The crisis even appears to be a driving force behind the strengthening of their role; 42% deeming the marketing function more important than before following the various crises. "The role of the CMO is evolving rapidly. Beyond sales and the evolution of offers, the adaptation of the company to societal and environmental issues such as responsible marketing occupy an increasingly important place in their missions"underlines Stéphane Marcel, Global Chief Growth Officer at BVA.
On the other hand, 62% of marketing professionals (+9 compared to 2021) consider that their resources are insufficient. A tension thus emerges between the rise in power of their role and objectives on the one hand and the means at their disposal on the other.
CMOs under pressure
In the current economic context (crisis, increase in production costs and raw materials, disengagement of employees, inflation, difficulty recruiting), CMOs are faced with numerous dilemmas. "We live in an atmosphere that is far from being positive in general. (…) I am rather optimistic and I try to bring this positivity into the projects that I carry out. In every difficulty, there are opportunities that may appear"estimated Grégoire Petit, Marketing Leader at Mazars, in commentary on the study. The CMOs surveyed explain that they prioritize improving profitability, even if it means limiting revenue growth for 66% of them. 71% believe that it is important to invest in innovation rather than focusing on what already exists… "As for many, our main project is innovation: how to go faster, stronger, be more omnichannel. The other major project concerns CSR, its integration into our brand policy and as a differentiating element"testifies Gérald Saada, marketing director, R&D, CSR and New Circuits of SODIAAL PGC.
Quickly adapt the offer and transform the customer experience
The study also reveals the rise in power of "time to change". Rapidly evolving offerings to better meet customer needs and practices is the top priority for CMOs in 2023 (62%), ahead of transforming the customer experience and journeys (56%). Followed almost equally by the acceleration of CSR policy and responsible marketing practices (40%) and the strengthening of the attractiveness of the company or the employer/recruitment brand (39%).
Expanded missions
As for the missions of these marketing professionals, they are always numerous and varied. The study nevertheless reveals 6 essential missions, to which 50% of CMOs devote the majority of their time. Developing the turnover of the current offering, its repositioning, increasing brand equity are the projects to which 2 thirds of CMOs will devote most of their time in 2023.
Not far behind is the analysis of trends and needs. Culture and customer experience remain stable (5th rank), as does the development of new activities (6th). If the time devoted to transforming practices integrating digital seems less important and in clear decline, conversely, attracting talent or integrating new skills appears to be an emerging mission of CMOs.
Towards more responsible marketing?
The study confirms this. 76% of companies have already initiated CSR actions, 52% of which are bearing fruit. 56% have also undertaken responsible marketing actions, and 42% actions to encourage customers to be sober. "We no longer talk about the 4 Ps as before but the 3 Ps: People, Profit and Planet"notes Stéphane Marcel.
Echoing the priorities of the year 2023, these results also testify to the fact that CMOs are already engaged in missions which go far beyond their commitments and their traditional missions, and which are entirely linked to the metamorphoses and transformations in progress. In the enterprises. Unsurprisingly, diversity and parity, the fight against discrimination, waste reduction and actions in favor of the circular economy appear as possible missions or commitments of their company for almost all of the professionals interviewed. Beyond that, 70 to 80% of them also consider it likely that their company will commit to developing the best practices of their customers, to fight against inequalities or even to contribute to changing societal models.
What about technological developments?
If the Digital Marketing and social is mature and seems largely integrated (for 84% of CMOs, it is part of their missions) and if the "marketing precision" is commonly used and is gaining momentum (for 78% of CMOs, +3 vs 2021), however, investing in web 3.0, the metaverse or the acceleration of the uses of artificial intelligence only appears in 9th place out of 10 among the priorities surveyed in 2023. Only 7% of CMOs say that investing in web 3.0, the metaverse or even blockchain is part of their current missions, while 33% think that this should be part of it in the future.
Artificial intelligence, Web3, the metaverse, the blockchain, or even augmented reality offer new opportunities for marketing, even if some are still in the disillusionment phase. Operationally, they remain poorly integrated into the priorities and action levers of CMOs. "With the arrival of new technologies around AI, a large part of the profession will change. We will have to be mega-agile"underlines Léonore Dobbelaere, Marketing Director for Consumer Mail & Parcels of the La Poste group. Note, 56% of CMOs focus on behavioral sciences or nudge (soft incentive marketingeditor's note) and 39% on the modeling of growth levers to support their strategy.
Also, although evolving in a complex environment, the marketing function remains attractive for the future. No less than 77% of CMOs surveyed believe that it has a strong impact on their company's business with a strategic position in its organization. A central place and definitely at the heart of the challenges of all the transformations in progress…
Guillaume Ferrand, chief Marketing & Communication officer of IBM France and Linda Hellal, Group Brand Director of Nexans
"It is vital to be agile and adapt"
What will be your priorities in 2023?
Guillaume Ferrand: IBM's DNA is to be at the forefront of technological innovation, while maintaining enormous ethical values. Our priorities in 2023 will focus on data, artificial intelligence, automation, consulting, cybersecurity, sustainable development and topics related to infrastructure.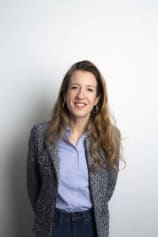 Linda Hellal: The priority objective for Nexans is to work on our growth in value rather than in volume. This involves the "premiumization" of our offers. With more recycled materials and services throughout the customer journey.
What is your vision of the transformations underway?
GF: Currently, we have a need for permanent agility in our structures. Everything moves very quickly. The world is increasingly uncertain…It is vital to be agile and adapt. Our offers, our marketing, our communication must evolve with the economic situation.
LH: The important thing for us is above all to raise awareness that the demand for electricity will explode in the future and that we will face a scarcity of resources, particularly copper. We try to make the invisible visible…And we are working on the transformation of the group which is based on our three pillars: sustainable economic performance, environmental performance and societal performance, in particular by promoting the commitment of our teams.