An intimate media, radio maintains its status as a traveling companion of the French. Despite a decline in its audience, the radio is adapting to new consumption patterns and has a new listening indicator for the month. Through the results of its study "The radio year" 2022-2023, Médiamétrie provides a complete overview of this media in France.
Like all other media, radio is being shaken up by a fragmentation of the audience and evolving uses. Thus, according to the latest wave of Médiamétrie covering the period April-June 2023 (figures published on July 12), the media reached a historically low level, with only 70.6% of French people having listened to it every day, i.e. 39.26 million of them, compared to 71.2% compared to the same period a year ago (-124,000). However, the media is adapting to a changing audio landscape and playing to its strengths with a public that remains loyal to it, as evidenced by the "Radio Year" study, carried out over a longer period.
2h36 of listening every day
Radio remains listened to by nearly 40 million listeners every day and is the number 1 offering in a broader audio ecosystem. In the 2022-2023 season, listeners listen to the radio 2h36 per day. And every morning at 8 a.m., more than 12 million French people are there, during the media's daily audience peak.
Audience peak at 8 a.m.
A true audience crossroads, morning shows stand out as a privileged moment for information and entertainment; thus, almost half of French people (44%) are behind their desk every day between 6 and 9 a.m. And 12.3 million at 8 a.m. A media for all audiences, radio brings together all generations, even if those over 50 are in the majority. Particularly popular with 35-59 year olds, 80% of them listen to it every day and overconsume all types of stations (musical, general, thematic and local). If the radio brings together 74% of seniors, it also appeals to young people under 35 (53% of 13-24 year olds and 62% of 25-34 year olds) listen to it every day. Furthermore, the targets of influence are particularly fans of radio since 86% of senior executives listen to it daily, even if the media is even more popular with craftsmen and traders with 3 hours 15 minutes of listening time each day.

Read also: What are the 6 main media?
18 days per month
"In agreement with the market, we have optimized the EAR > National and Local study (declarative with 100,000 interviews per year) and launched EAR > Insights (automatic panel with 5,500 people), in order to combine two complementary methodologies to adapt to the specificities of radio", explains Emmanuelle Le Goff, radio & total audio director at Médiamétrie. The dual system has been in place since September 2022. Thus, 93% of those aged 13 and over listen to the radio over a month, or 51 .6 million listeners who listen to it 18 days a week (and 38% of faithful tune in between 24 and 28 days).
Local anchoring
The radio follows the French throughout their day and their travels. More than half of the media's listening volume takes place outside the home (52%), mainly in the car (35% and an audience peak at 5 p.m.), then at work (15%). Listening to stations varies depending on where you live. Ile-de-France residents, for example, have a rather sedentary media listening experience with 61% of residents' listening volume done at home. A true local media, radio benefits from a strong local anchor with nearly 1,000 stations present throughout the territory. More than 9 million people listen to a local station every day, plus listeners to local programs on national stations. Rural communities (towns of less than 100,000 inhabitants) account for 74% of the media's cumulative audience (general and musical are equal). If the Pays de Loire achieves 78% audience share, the PACA region does not exceed 69%.
Digital, 20% of listening volume
Reflecting digital life, digital radio audiences are growing with 2h12 of listening per day on average and overconsumption by Parisians and CSP+ workers. No less than 9.3 million French people listen to radio every day on digital media (i.e. 40% more than 5 years ago), mobile in the lead (5.6 million daily listeners) with a breakthrough in voice-activated speakers. "A media of mobility and proximity, radio has been able to integrate into connected objects to stay as close as possible to its listeners," explains Julie Terrade, national radio director at Médiamétrie.
Radio, pillar of audio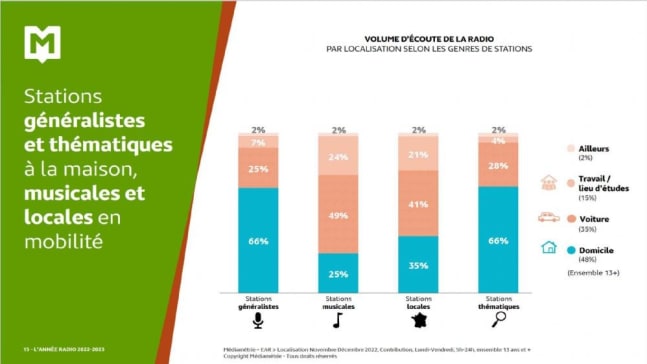 Whether live or in podcasts, the media represents 58% of the listening volume of available audio offers and remains the leading medium for listening to and discovering music, with 42% of the listening volume of "music" audio content. over a day. Furthermore, according to the study, podcasts are growing in importance with 20 million monthly listeners, including 50% of 15-24 year olds. No less than 56% of podcast fans listen to them regularly. Even if listening is done alone (87%), the content recommendation rate rises to 79%.