When we talk about fun activities and entertainment, we often contrast fiction, whether it is cinema or series, video games, or even sport. However, these activities are complementary, and if there are only 24 hours in a player's day, the latter often tends to consume this content simultaneously. I subscribe
This is what Gameloft for brands, the internal management of the French video game publisher, is showing, at the initiative of the COMBO! advertising network. The Gaming Media Network, which brings together several pillar publishers of mobile gaming and puts in-game advertising at the service of studios, broadcasters and VoD platforms.
If video games were built by relying on sport and fiction, now these industries are paying it forward, since they draw their inspiration from the mechanics and history of the great video game sagas, the first industry entertainment in the world. Let's remember: video games affect everyone. In France, the average age of players is 38 years old. According to the SELL (Syndicate of Leisure Software Publishers), if, unsurprisingly, 95% of 10-18 year olds play, it is also 68% of adults who regularly play video games, including seniors: 44 % of people over 60 are gamers! Video games have therefore truly become a transgenerational leisure activity.
A reality that has not escaped advertisers: in-game advertising revenues will increase by 11% per year by 2030 globally, according to the study "The Marketing ROI in Gaming – The Positive Impact of Gaming for Brands" produced by Gameloft for brands. It is based on this observation that the entity launched the COMBO! last year, in partnership with several flagship mobile gaming publishers such as Rovio, Outfit7, Wooga, and Activision Blizzard. A network which has delivered more than 2.5 billion video impressions this year to date, and which continues to expand, with the recent arrival of the Brazilian publisher Wildlife Studios, behind the game Tennis Clash. COMBO! thus extends its ability to reach all targets, since one in three players in the world plays at least one mobile game developed by the network's publishers. That's over a billion people!
Video games, an ideal advertising lever for entertainment players
Transgenerational and inseparable from pop culture, video games are therefore a fantastic channel for promoting films, series, sports competitions and of course other games. This is what Gameloft for brands reminds us through a new series of studies on the consumption habits of gamers with regard to SVOD platforms, cinema or even sporting competitions such as the Football World Cup. Women's Rugby World Cup and the Men's Rugby World Cup, both organized in 2023.
We thus discover that 43% of gamers watch at least five hours of content on subscription video-on-demand platforms, and that 67% play mobile games while watching this content and 37% while watching this content. They watch sports. Playing games is therefore the main mobile use for people watching sports, while mobile is the second most used screen for watching sports. Gaming and sport also come together in another area: that of the performance offered to sponsors and advertisers. In fact, 54% of players indicate that they are more inclined to consider a brand that sponsors a sporting event and/or a video game.
In-game advertising also offers tremendous opportunities for PC or console game publishers: two thirds of mobile gamers also play on PC and/or console.
Finally, 64% of players aged 18 to 35 say they are more likely to buy a cinema ticket for a film that has been advertised in a game, like what COMBO! offers.
Interactive ads and rewards, key formats to drive engagement
"Advertising on our free-to-play games is now widely accepted by players, and it benefits not only from a controlled distribution context, but also from a high level of advertising attention, thanks to our award-winning formats, which allow you to unlock an advantage in the game in exchange for a view or an advertising engagement. It is an opt-in format by nature, from 15 to 30 seconds, which represents a showcase for advertisers entertainment companies which often have trailers to promote new content. This is a strong lever for notoriety, but we can go further in terms of engagement, with playable formats", explains Jean-Baptiste Godinot, EVP Gameloft for brands. The publisher thus dedicates a team of 140 people to the creation of brand content, which can range from simple playable advertising to multi-platform applications. "We capitalize on our experience as a publisher to offer advertisers the game mechanics best suited to their DNA and the targeted audience, while guaranteeing our players a quality experience that creates support for these players. formats", adds Jean-Baptiste Godinot.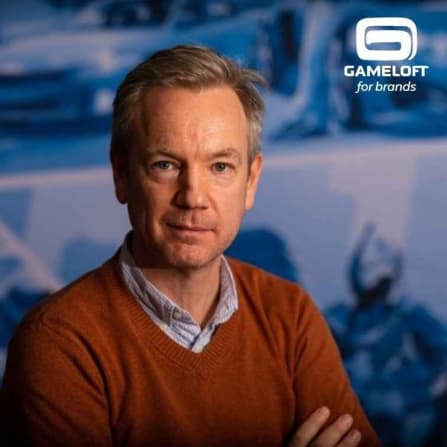 Jean-Baptiste Godinot, EVP Gameloft for Brands
And the results are there, since, according to the study "The Marketing ROI in Gaming", carried out by Gameloft for brands in partnership with Oracle Moat, the formats offered by the COMBO! advertising network. offer a strong impact for brands with measured progress in terms of memorization (+16%), notoriety (+12%) and attachment to the brand (+11%). This is explained in particular by the ability of the rewarded format to make the advertiser an ally of the player, who will be able to benefit from a bonus after having viewed or interacted with the brand, where classic formats often interfere with their experience. These advertisements also stand out for their superior performance to market averages in terms of visibility (98.3%, compared to 67% for traditional advertisements – MOAT in-view rate), and completion (92.4%, compared to 61. 9% on average elsewhere). Furthermore, while measuring advertising attention is at the heart of the innovations proposed by the digital advertising industry this year, in-game advertisements generate high attention with engagement rates almost twice as high as traditional digital advertising formats, as demonstrated in the Gameloft for brands study. Logically, this unique environment is bearing fruit for brands as shown by a recent study carried out by IAS and Médiamétrie which estimates a 23% increase in the purchasing intentions of players exposed for more than fifteen seconds.
Whether it involves developing awareness of a new series or a platform's game offering, engaging fans of a saga or a sport for which we have just acquired the rights to broadcasting, in-game advertising, naturally stands out as an essential lever for entertainment players.
To learn more about COMBO! The Gaming Media Network.
I subscribe