Even as it pulled back along with the broader market, insulin pump maker Insulet Corporation (NASDAQ: PODD) was finding support along its 50-day line and remained in the buy range with a possible early entry point.
Since mid-November, the stock has been forming a flat base below a previous high of $320, reached after Insulet gapped up following its most recent quarterly report. The base corrected 13% from peak to trough, which puts it in the flat base territory.
However, looking at a daily chart illustrates the potential for viewing Insulet's base as a double bottom, with a buy point above $316.44.  
Insulet specializes in pumps for patients with various forms of diabetes. The company was founded in 2000 to help diabetes patients avoid multiple daily insulin injections. Its products are wearable devices that deliver insulin to the patient. 
Last year, Insulet rolled out its latest device, Omnipod 5 Automated Insulin Delivery System.
Partnering With Glucose Monitoring Specialist DexCom
According to the company, Omnipod 5 is the first tubeless automated insulin delivery system in the U.S. to integrate with the DexCom Inc. (NASDAQ: DXCM) G6 CGM system.
This is a good example of how companies in the medical field collaborate and innovate to complement each other. DexCom, a maker of glucose monitoring systems, is among those little-known S&P 500 components. It has a market capitalization of $42.08 billion. 
It's easy to see how the maker of a glucose monitoring and glucose delivery system would partner. There were reports last year that the two companies were discussing the potential for DexCom to acquire Insulet, which has a market cap of $20.78 billion, but those rumors were scuttled in May. 
Nonetheless, the potential is clear: The market for diabetes treatment is huge and growing. 
According to the World Health Organization, more than 400 million people globally have diabetes, and its treatment comprises about 12% of worldwide healthcare spending. The number of patients being treated around the world continues to increase. Analysts forecast the diabetes care drugs category to have a compound annual growth rate above 3% through 2027. 
According to MarketBeat analyst data, Wall Street's consensus rating for Insulet is "moderate-buy" with a price target of $309.23, representing a 3.47% upside over where the stock is currently trading.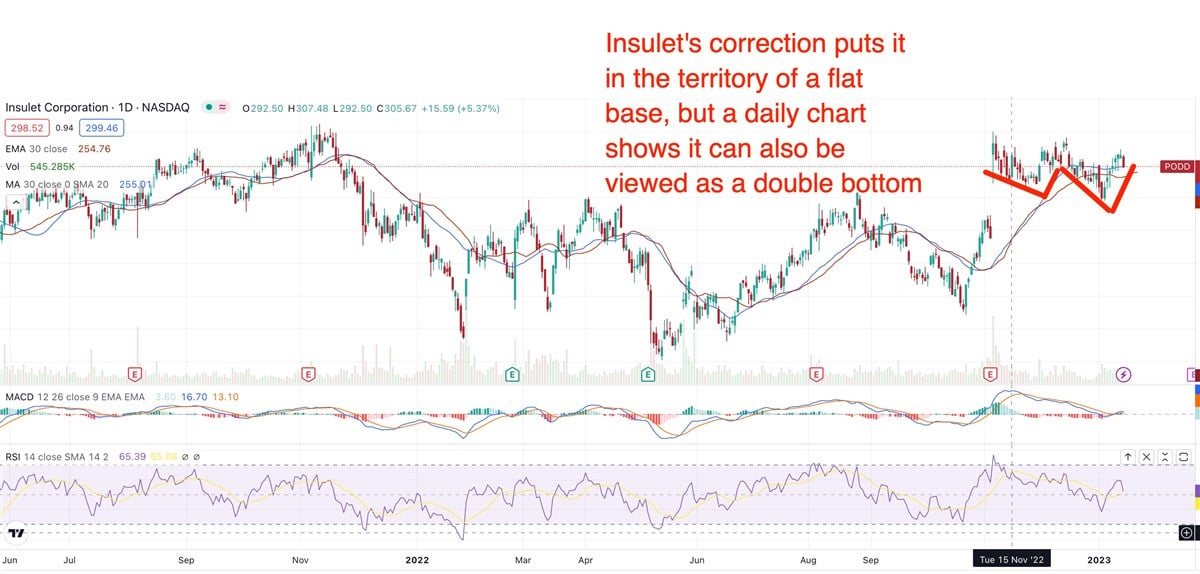 Price Targets Not Aggressive Enough? 
So what to make of a price target that's not especially aggressive? 
Analysts' targets should not be used as buy or sell signals. They indicate a consensus of what analysts believe the stock will be worth in the next 12 to 18 months. That time frame differs depending on the analyst. 
These targets aren't just guesses; they are derived from estimates of the company's earnings and cash flow in the next year or two. Analysts may incorporate other financial metrics, such as the company's earnings before interest, taxes, depreciation, and amortization. 
For the full year of 2022, which wrapped up in December, analysts expect Insulet to earn $0.45 per share, which would increase 88%, not exactly a trifling amount. This year, that's seen leaping by an almost astonishing 136% to $1.07 per share.
With that kind of earnings growth, it's probably unreasonable to believe the stock would remain mired below its November 2022 high.
Double-Digit Revenue Growth
MarketBeat earnings data for Insulet show the company topping revenue views in the past five quarters while outpacing earnings expectations in three of the past five. 
Revenue has grown steadily in the past eight quarters, with year-over-year increases ranging from 16% to 27%. Earnings growth has been more erratic. For example, last year, the company took charge of the voluntary recall of Omnipod Dash products due to faulty power-charging units. 
The company is slated to report its 2022 fourth-quarter results on February 22, with Wall Street eyeing earnings of $0.24 per share on revenue of $332.46 million. That would be a decrease on the bottom line but an increase on the top line. 
This is a company that seems poised to grow its market share. If it can avoid product missteps like what it experienced last year, earnings growth is likely to continue at strong rates, as analysts expect.