Analysts rated shares of Tyson Foods Inc. (NYSE: TSN) a hold, opting for caution throughout 2022. The MarketBeat analyst consensus rating creeped toward a bullish position. We estimate that the stock offers a potential value opportunity at around $60. 
Tyson ranks as the fifth largest food and beverage business in the industry, according to FoodEngineering.com. After a hearty 2021, conditions in 2022 sparked downward pressures on the stock price. It tumbled to a 52-week low, where it starts the New Year from a more-than-$100 high. 
Tyson Stock Underperforms as the Food Sector Stabilizes
The average price target consensus is over 20.5% to $75 during the next 12 months, but shares might hit $97 high. Since last October, momentum has increased among food, consumer staples and beverage stocks. For example, the two largest food sector ETFs are up 5% yearly on average. Tyson shares are still down about 28% for the year.  
In response, management continues slicing selling, general and administrative expenses (SG&A) costs, consolidating operations and spending more money on advertising. The company made 13 acquisitions, three in the last five years. Tyson has maximized efforts in popular food consumer trends, including organic meat and mimic meat. We expect revenue in 2023 to top $55 billion or increase by 3%.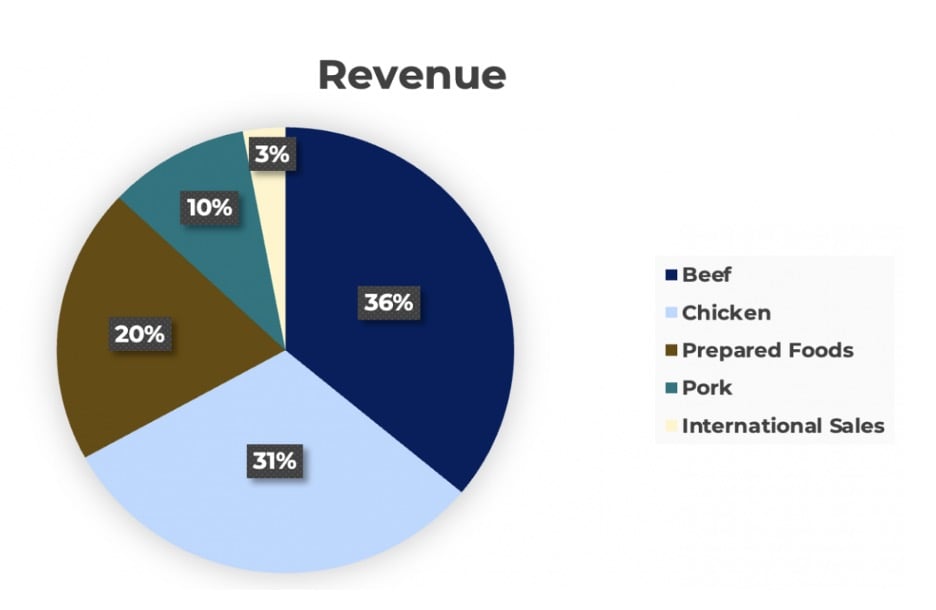 The stock price appears to have found a foundation around $60. Short interest marked a low point at the end of November. It ticked up on December 15, but only to 1.7%. Volatility has gone out of the stock; its beta is 0.69.
Inconsistent earnings and a plethora of other factors have kept investors cautious. Adjusted EPS of $1.63 in Q4 2022 was down 29% year-over-year (YOY) though adjusted operating income was over 3% YOY.
EPS, Dividend Forecast Good
The EPS forecast is steady and expected to increase in mid-2023. By June 2023, it might be up to $1.66 per share and $1.77 in September. 
The 88-year-old company's (forward) dividend yield is 3.08%. A dividend raise in 2022 took it from $0.46 to $0.48. 
Assets total $36.8 billion and liabilities were $17 billion as of September 2022. Debt-to equity ratio is a satisfactory 42%. The company cut the ratio from 96% over the last five years. In 2022, Tyson paid another $1 billion of debt and bought back 8.2 million shares. 
A total of 670 institutional buyers held shares in 2022 and 483 sold with more than $1 billion in in flow. Corporate insiders sold shares worth $9.63 million in Q1 through Q4 2022 and own a healthy 1.96% of shares. 
Tyson Faces Challenges   
Since people need to eat every day, Tyson makes for a good long-term investment. Even so, Tyson faces food insecurity, environmental issues and inflation, but it's not all ominous. Tyson meets supply and labor shortages, despite bad weather that kills feed crops and epidemics that reduce egg clutches and affect the meat supply. Labor problems also slow production, hurt exports and drive up prices. 
Exports of hogs and red meat regained momentum in the second half of 2022. The impact will begin showing up in 2023 earnings reports. The next quarterly report is expected on February 6, 2023. The Y Charts graph demonstrates the rising revenue and near-to flat-line in expenditures. 

Challenges Amid Positivity
Tyson spent $283 million in 2022 on global advertising, more than $30 million more than it spent in 2021, which positively affected revenue and earnings. It promotes Jimmy Dean, Hillshire Farm, Ball Park and other brands. The company settled labor troubles and management closed plants. Corporate offices in Illinois and South Dakota will relocate to Arkansas in 2023.
We believe these changes will positively impact future earnings later in the year, what with recent management moves and the demand for beef, chicken and pork holding steady.